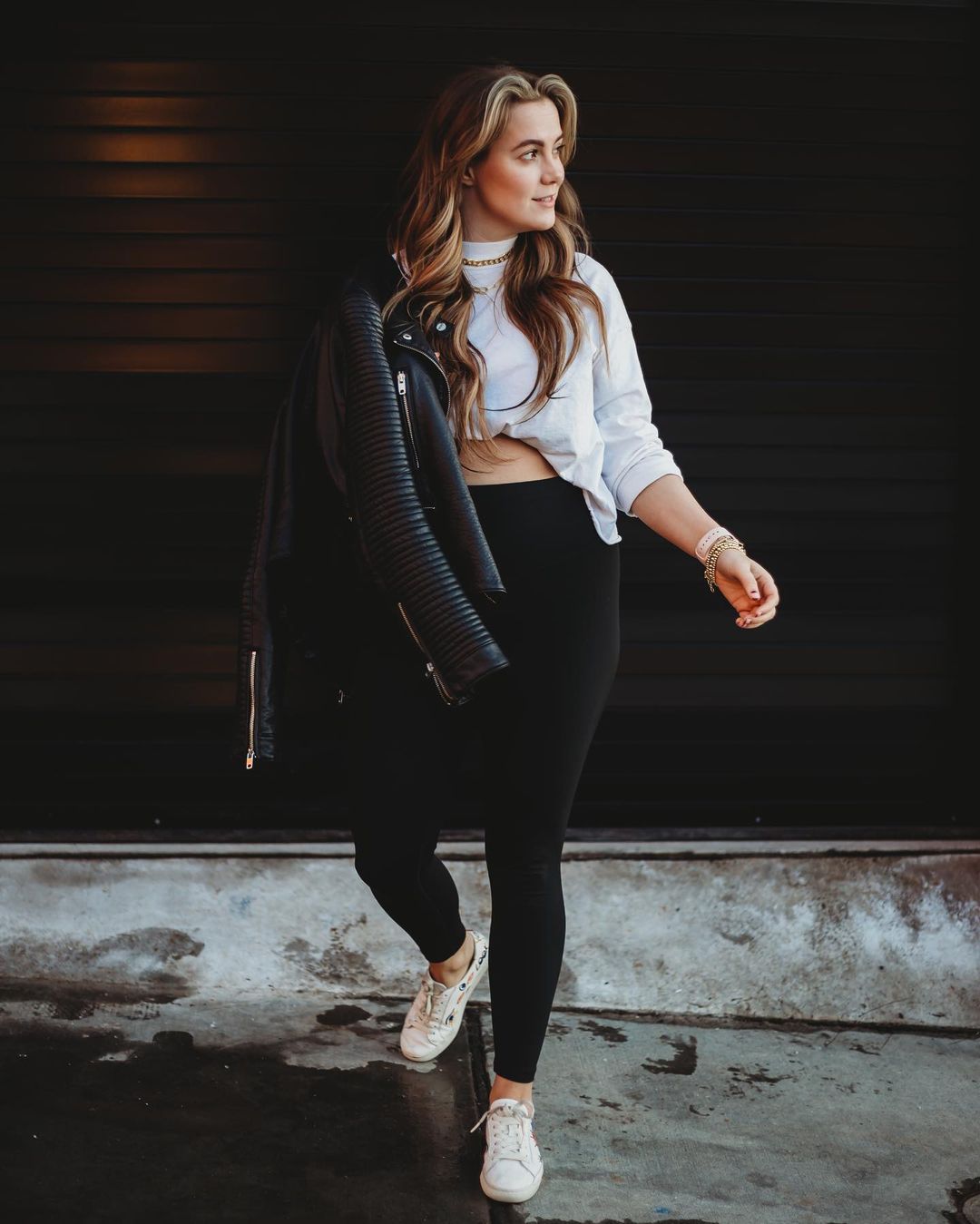 Leggings are the ultimate fashion staples for one too many reasons. Their comfort and flexibility is unmatched. The versatility with which they can be paired with all accessories is so satisfying! But what about those days when you want to pair leggings outfit to make a fashion statement?
Leggings can be made into a statement of any outfit and they can also be used as a blank canvas to let some other accessory stand out. Listed below are our favourite outfits with leggings to let you take the centre stage.
Leggings with oversized sweatshirt
This look is a bit 90s, it's easy and casual and plays on popular trends. Start with high waist black leggings. Add a turtleneck (bonus points if it's printed), and a crew neck oversized sweatshirt. Add a bucket hat for a fun 90's vibe. You need chunky boots with socks peeking out and a trendy bag.
The fact you are combining two popular trends in this one unique legging outfit makes its really stand out and levels it up. With so many other points of interest, the leggings become just a casual backdrop for the other articles to shine, and that is a great way to wear "leggings as pants".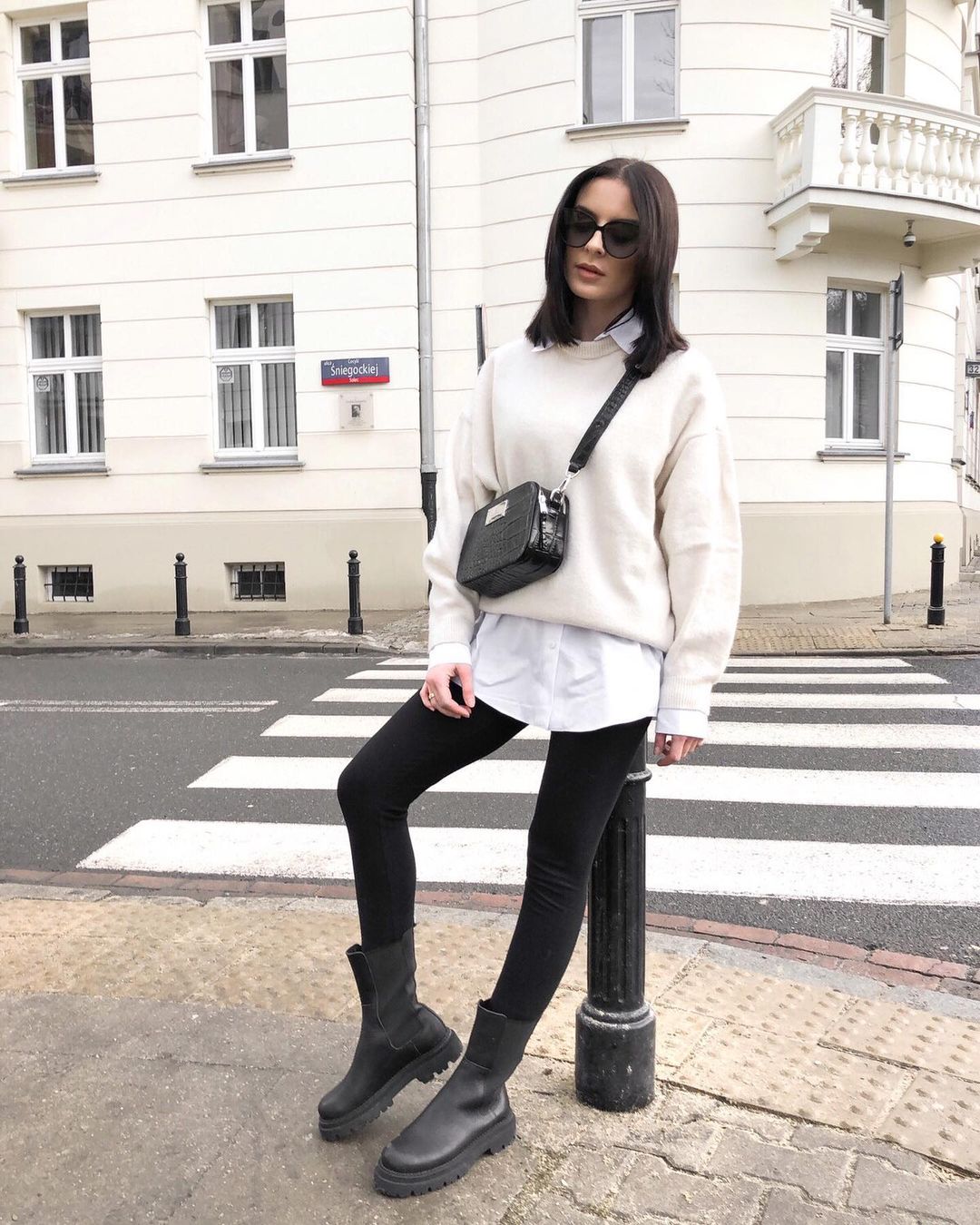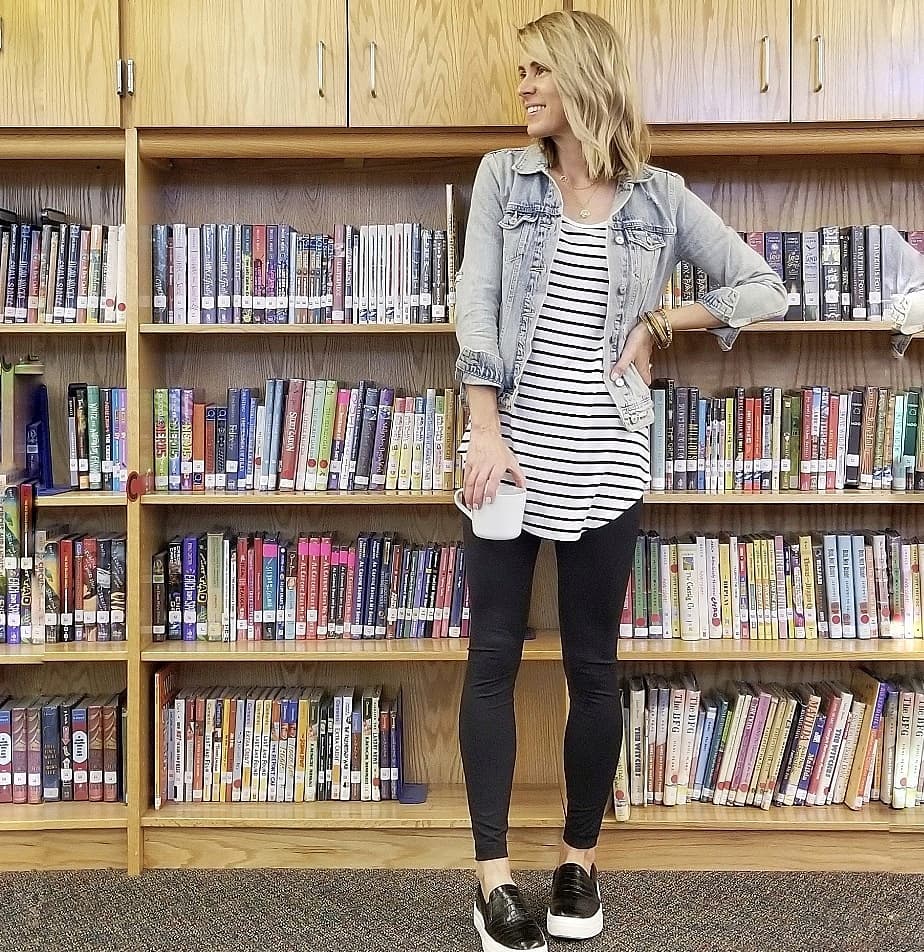 Leggings with a jacket
This look is a bit more formal but with a trendy twist. Start with a white shirt. Add a tweed jacket (major Chanel vibes). Pull your hair back in a low bun with a velvet scrunchie to keep the look sleek and effortless. And for a fun twist add lace socks, loafers, and a micro bag.
The microbag along with that fancy twead jacket is bound to make heads turn. The pulled back hair keep the focus on the two fashion statements.
Leggings with cropped tee
This look is a popular legging outfits. It's on-trend, so chic, and has great masculine/feminine balance to it. Start with a cropped, fitted tee. Add an oversized men's blazer to the look. Put your hair in a low half ponytail and add a hair bow accessory. Add heeled mules to finish the look off. You can even match your bow with your shoes for a fun pop of color.
Sometimes simplicity wins, and this outfit is the epitome of that, with a few feminine details. The pop of color is a great way to add more interest to an otherwise neutral ensemble, and the hair bow and mules also give a feminine edge to the look.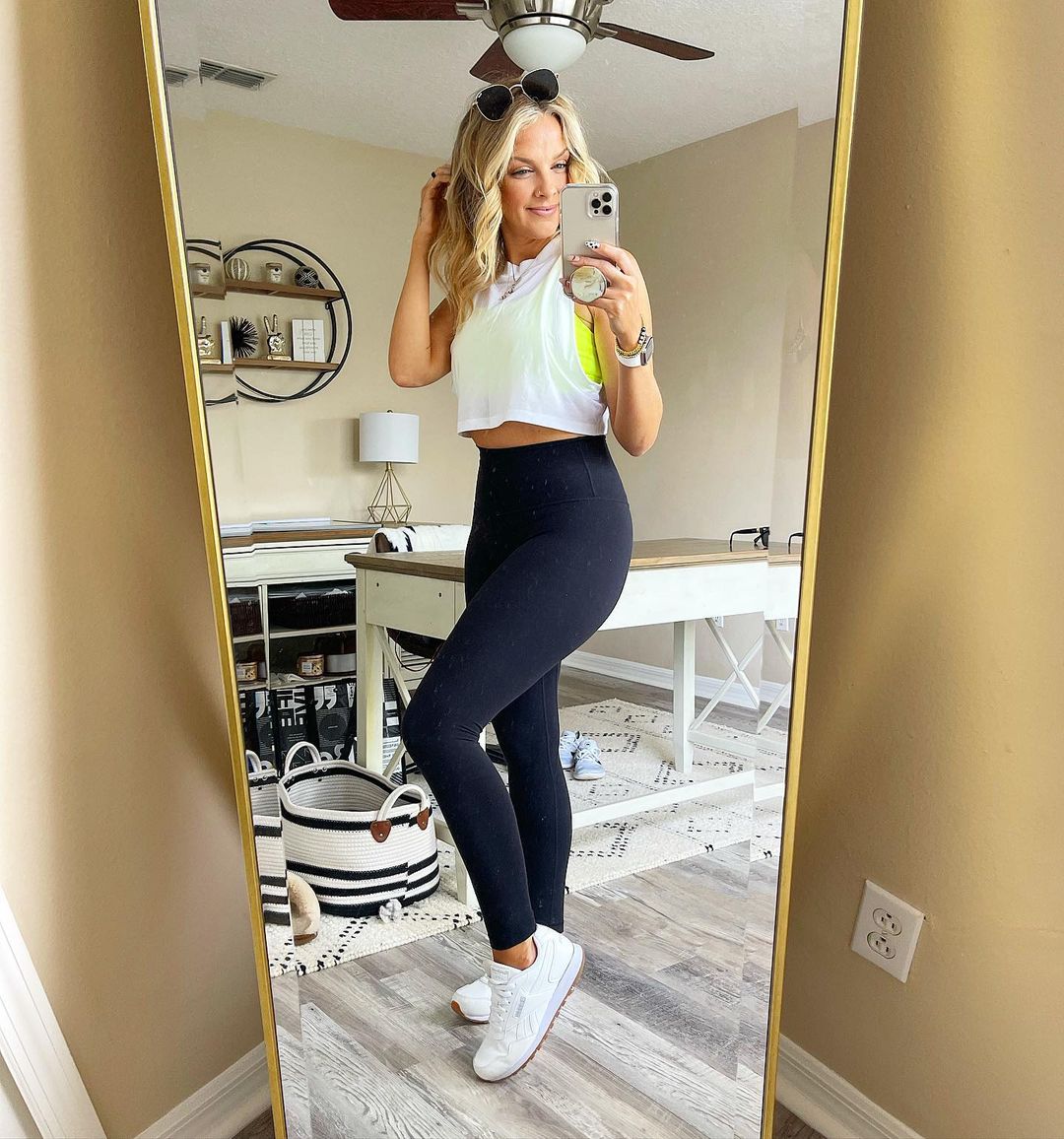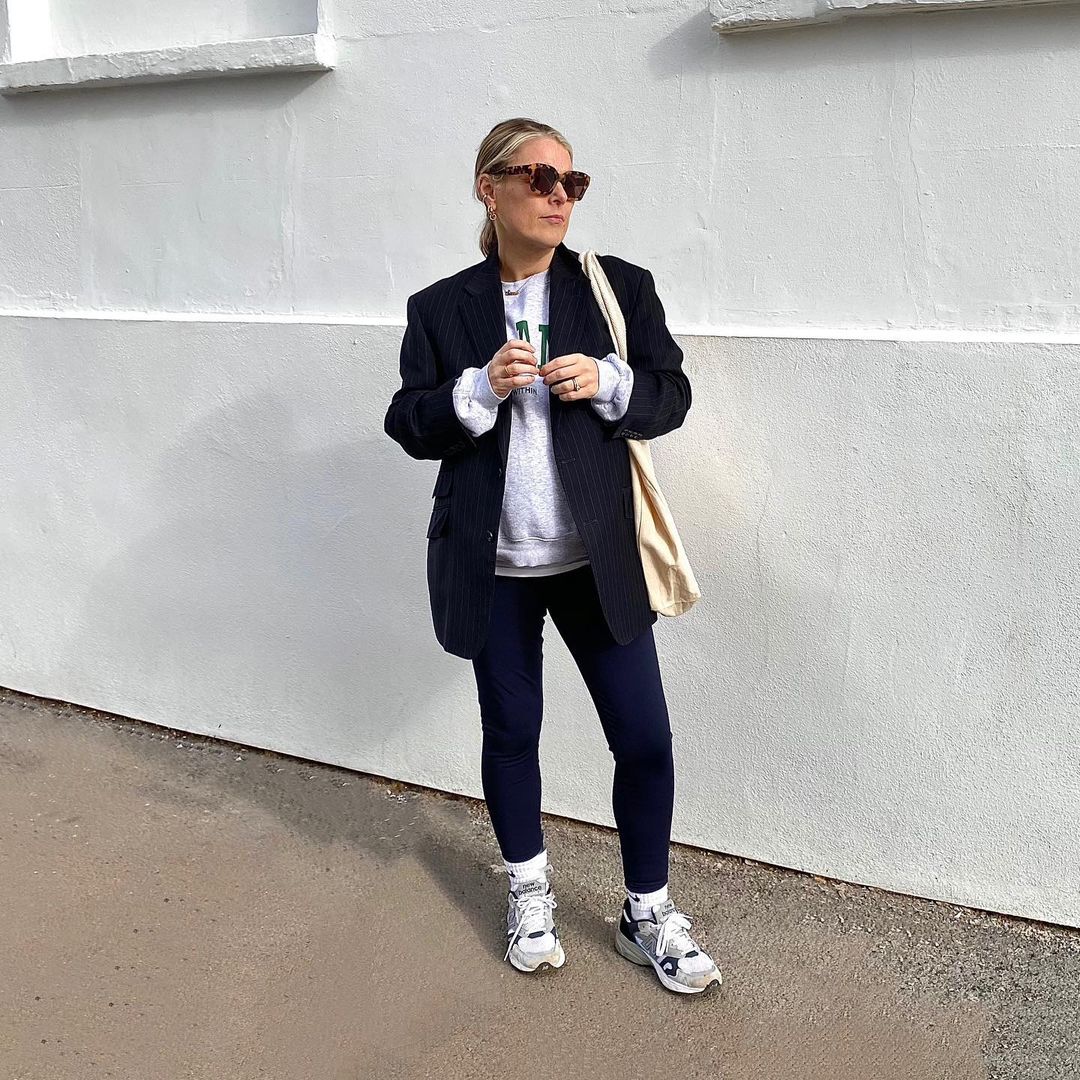 Leggings with padded shouldered top
This look is perfect for a night out, it's sexy yet elegant. Start with a padded shoulder tank, and try to keep this look monochrome for the most sophisticated outfit. Add a pearl belt for interest. And pointy black lace-up boots. Keep your hair simple with a center part. Grab a simple black clutch and you're ready to go.
Monochrome is the way to go with this look for a fun night out. Accessorise this further with a pearl beaded necklace and let the night begin!
Leggings with a turtleneck
This look has classic elements with fashion-forward details. Add a striped fitted mock turtleneck. Pair this look with statement shoes, like knot front mules. Add a classic trench to your look. Optional: Put your hair in a low side ponytail with a scrunchie to make this outfit a bit trendier.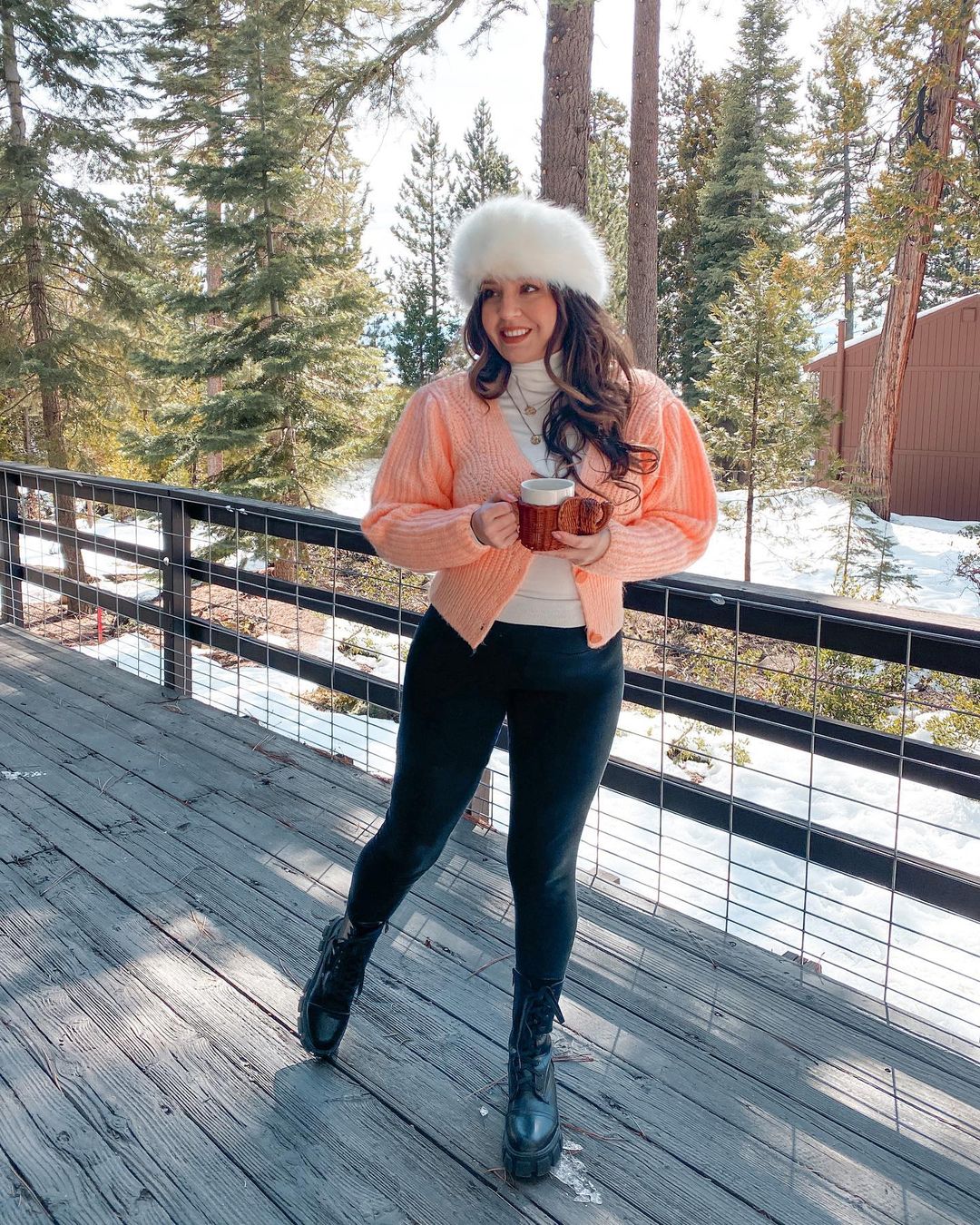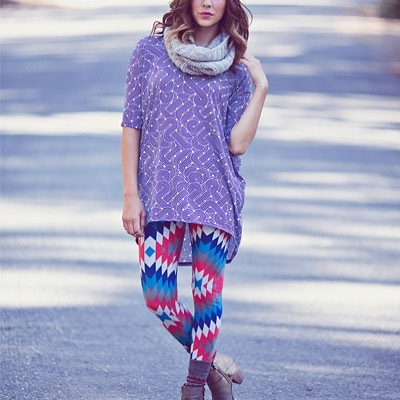 Leggings with an oversized shirt
This look is casual yet put-together. I like to call it classic with a trendy twist. Pull your hair back in an easy ponytail and pull out a few front strands. Add a men's denim shirt or flannel. Add knee-high black boots. Next, add a small handbag and medium gold hoops to finish the look off.
Oversized pieces are one of those French-style secrets we tend to overlook. Oversized pieces are the key to effortless chic. Especially when paired with leggings they really add a nice balance to the ensemble.
Conclusion:
As is obvious in this article, outfits with leggings can be paired with almost all types of tops and tees and still look fresh. Accessories are often the key to any good outfit with leggings. The good news is, no one can really go wrong in making a fashion statement while wearing outfits with leggings.